DREAMWORLD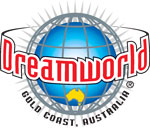 Dreamworld
Coomera, Gold Coast
Ph: 1800 973 300
NB. You MUST purchase your ticket online now to claim the discount.
10% DEFCOM discount off General Admission

Dreamworld is Australia's biggest theme park with everything to offer from the famous BIG8 thrill rides to family-fun at Wiggles World and the Dreamworks™ Experience.
Dreamworld is also home to the world famous Tiger Island, as well as Dreamworld Corroboree where guests can interact with Australian native wildlife including koalas and kangaroos, and experience the world through Indigenous eyes.