WESTCOAST HIFI
Providing the Very Best in Home Entertainment Australia Wide
Speci

al offers plus discounts for DEFCOM members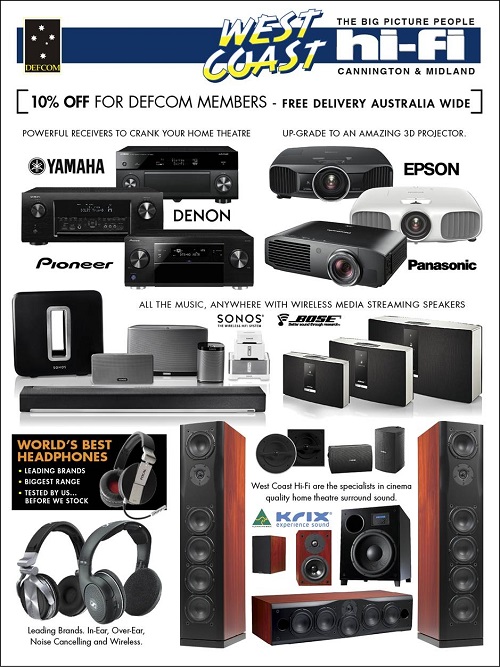 ABOUT US
West Coast Hifi Midland and Cannington have 2 state of the art showrooms and over 24 years' experience in HIFI and Home entertainment. All of our staff are very interested in talking to you about your needs and will provide you with the knowledge and components you need to create what YOU want.

We offer the perfect solution for someone wanting the quality of permanent multi-room music and vision, with the flexibility of no permanent fixtures or fittings.  From Noise cancelling headphones and Bluetooth docks, to Big screen home theatre, there's a solution for everyone.  If you already know what you need, we make it extremely simple to order online and have your new toys shipped immediately - Oh and expect a call from our helpful staff to confirm everything has arrived and offer free friendly setup advise. Now that's piece of mind shopping!
HOW TO PURCHASE
STORES
For those living in Western Australia, you can pick up in store from either:
Midland Store: Cnr Clayton & Lloyd St, MIDLAND Ph: 08 9374 0388
Cannington Store: 1371 Albany Hwy, CANNINGTON Ph: 08 9356 2177
ONLINE
DEFCOM members can purchase online. You must ENTER the word DEFCOM followed by your membership number or PMKeys if you are one of our ADF members in the comments section of check out.
TESTAMONIALS
If you are not quite sure what you need, you can speak to someone that can help you pick out the perfect product or package and then have it shipped straight to you. 
Here's what some of our customers had to say about us:
The team at West Coast Hi fi Midland were outstanding in helping me select the best products to create my perfect home theatre. The customer service was second to none. Drew was extremely professional, always welcoming, and exceptionally knowledgeable about the latest products on the market. He was always ready to answer the many questions I had about home entertainment to make sure my theatre room vision came to life the way I had pictured it. The finished product is magnificent and feels like I'm at the movies in my own home. Jae
Just a quick thanks to the team at West Coast Hifi for helping me out with the amp I ordered.  There's not much technical support available when you live rural however after my delivery arrived, the boys stayed on the phone with me until I was up and running. Thanks for your patience and I'll call you when we're ready for the next upgrade. Cheers Leo